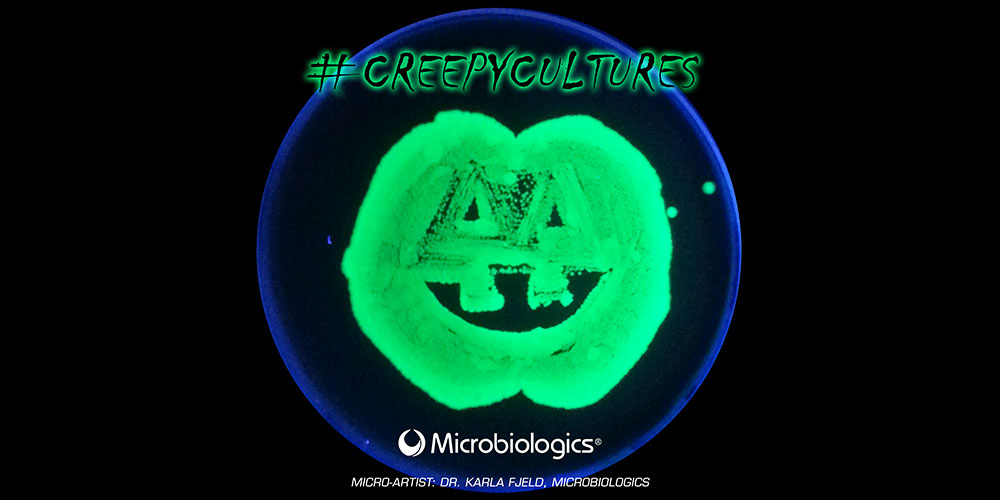 It's that time of year again! The time when we ask you, our fellow microbiologists, to send us your creepiest, crawliest Halloween-themed agar art. The time when you get to put those supreme streaking skills and that artistic flair to work for a chance to win some Microbiologics swag (including a plush Stanely Staphylococcus). Using the microbial strains and agar of your choosing, streak something spooky, haunting, even frightening. Ghosts, monsters, skulls, bats, warwolves, and witches – we can't wait to see what you create!
How the contest works:
Create some Halloween-themed agar art using your favorite microorganisms and agar. Share an image of your creation with us by Monday, October 23, 2017 for a chance to win a Microbiologics swag bag including a stuffed Stanley Staphylococcus!
Scroll to the bottom of this post to see last year's winners. For extra creepy cultures, use our UV-BioTAG™ strains (GFP tagged microorganisms) to make your design glow like the plate shown above, designed by our Research and Development Scientist, Dr. Karla Fjeld.
How to enter:
Use the form below to upload your image
Email your image to marketing@microbiologics.com
We will announce the winners on Thursday, October 26, 2017 on the Microbiologics Blog and our social pages.
Good luck and happy streaking!
Form:
The 2017 Creepy Cultures contest is now closed. Please visit Microbiologics Blog for current contests.
Here are last year's winners and honorable mentions!