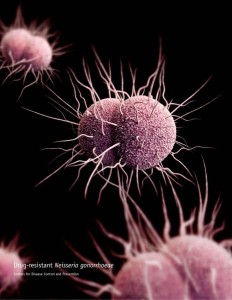 The global spread of antibiotic resistant sexually transmitted diseases (STD) has been receiving increased attention over the past several years from health institutes including the World Health Organization (WHO) and the Centers for Disease Control and Prevention (CDC). These organizations are paying especially close attention to the health and financial impacts caused by the spread of multidrug-resistant gonorrhea.
In this post we will provide a history of multidrug-resistant Neisseria gonorrhoeae followed by a description of the test methods clinical laboratories are using to determine the antimicrobial susceptibilities of N. gonorrhoeae isolates.
About Gonorrhea
Gonorrhea is a globally prevalent infection caused by N. gonorrhoeae, a Gram-negative bacterium. According to CDC, approximately 820,000 new gonorrheal infections occur in the U.S. annually. However, recent statistics show fewer than half of the new infections are usually reported to the organization likely because many cases of gonorrhea are symptom-free. In 2014, 350,000 gonorrhea cases were reported to CDC. Between 2010 and 2014, the rate of gonorrhea infections in men was particularly alarming with an increase of 27.9%. During the same time, the rate of infection in women decreased 4.1%.
Although most women with gonorrhea do not have any symptoms, the STD can be especially harmful to women if the infection spreads to the uterus and fallopian tubes increasing the risk of pelvic inflammatory disease (PID) and infertility. If a pregnant woman has gonorrhea she can give the infection to the baby during childbirth.
An even more concerning fact is that N. gonorrhoeae has gradually developed resistance to antibiotics used to treat infections. There is currently just one CDC-recommended treatment available for gonorrhea: dual therapy with ceftriaxone (a cephalosporin administered by injection) and azithromycin.
Rise of Antibiotic Resistant N. gonorrheae
Gonorrhea is the second most commonly reported notifiable infectious disease in the U.S. (chlamydia is first). If a patient tests positive of gonorrhea, his or her doctor must report the instance to the federal government. Since 1986, the CDC sponsored Gonococcal Isolate Surveillance Project (GISP) has collected data from STD clinics to track trends of antimicrobial susceptibly of N. gonorrhoeae in the U.S.
WHO cites unrestricted access to antimicrobials, overuse of antibiotics and consumption of poor quality antibiotics as some of the causes of antibiotic resistant N. gonorrhoeae. The organism also has an innate ability to genetically mutate by obtaining pieces of DNA from other bacteria which has increased concern that N. gonorrhoeae may develop resistance to all antibiotics currently available.
Strains of N. gonorrhoeae have been developing resistance to antibiotics since the late 1960s:
1960s: Strains of N. gonorrhoeae increase resistance to penicillin by making the enzyme, penicillinase.
1980s: Other strains of N. gonorrhoeae not producing penicillinase increase resistance through genetic mutation.
1993: Cirpofloxacin (a fluoroquinolone) and cephalosporins ceftriazone and cefixime are the treatments recommended for gonorrhea infections.
Late 1990s – Early 2000s: Ciprofloxacin resistance appears in Hawaii and the West Coast of the U.S.
2006: 13.8% of N. gonorrhoeae isolates exhibit resistance to ciprofloxacin, one of the main treatments for gonorrhea infections.
2007: CDC stops recommending fluoroquinolones as treatment for gonorrhea leaving cephalosporins (cefixime or ceftriaxone) as the only recommended treatment for the STD.
2010: 27% of gonorrhea samples obtained by GISP are resistant to penicillin, tetracycline and ciprofloxacin. CDC recommends dual treatment for gonorrhea including an increased dose of ceftriaxone.
2012 – 2014: N. gonorrhoeae resistance to cefixime increases dramatically. In 2014, over 350,000 gonorrhea cases are reported in the United States alone.
CDC warns resistance of the current treatment for gonorrhea, ceftriaxone, may be on the horizon.  Now more than even it is imperative for clinical laboratories to perform antimicrobial susceptibility testing (AST) of N. gonorrhoeae.
The Importance of Antimicrobial Susceptibility Testing 
Antimicrobial susceptibility testing of N. gonorrhoeae, an important task for clinical laboratories, is measured by the minimum inhibitory concentration (MIC) or the lowest antimicrobial concentration that inhibits bacterial growth in the laboratory. An increase in MIC shows that the bacteria can survive at higher antimicrobial concentrations. According to CDC, it is important to monitor MIC trends in N. gonorrhoeae because increases in MICs can be a precursor to antimicrobial resistance.
CDC states, "A major challenge of monitoring emerging antimicrobial resistance of N. gonorrhoeae is the substantial decline of the use of gonorrhea culture by many clinicians, as well as the reduced capability of many laboratories to perform gonorrhea culture techniques required for antibiotic susceptibility testing."
CDC continues, "Currently, there is no well-studied reliable technology that allows for antibiotic susceptibility testing from nonculture specimens. Increased laboratory culture capacity is needed." The current recommendation from CDC is for all state and local health department laboratories to perform gonorrhea culture by either developing the capacity to do so or working with outside laboratories.
Antimicrobial Susceptibility Testing Methods
Several methods are used for antimicrobial susceptibility testing. The disk diffusion test is a common method that uses antibiotic impregnated paper disks to determine the antimicrobial resistance of a bacterial isolate. Disks, each containing a different antibiotic, are placed on a lawn of bacteria growing on an agar plate. The antibiotic diffuses into the agar, with the greatest concentration of antibiotic being closest to the disk. The closer the microorganism grows to the disk, the more resistant the organism is to the antibiotic on the disk.
The broth dilution and agar dilution methods as well as commercial kits use quantitative methods to determine the MIC. A bacterial isolate is tested against a range of antimicrobial concentrations. Etest®, an in vitro diagnostics (IVD) test manufactured by bioMérieux, has characteristics of a disk diffusion test but gives MIC results. Etest® uses plastic strips containing an antibiotic gradient with a numeric scale indicating the concentration of the antibiotic at different points on the strip. The strip is placed on a lawn of bacteria growing on an agar plate. The MIC is read at the point where the border of growth inhibition intersects the strip.
All AST methods use quality control strains to monitor the test system. The strains are tested regularly to ensure the system is giving correct results. Expected results are published by the Clinical and Laboratory Standards Institute (CLSI) and the European Committee on Antimicrobial Susceptibility Testing (EUCAST). Laboratories using commercial kits should follow the manufacturer's recommendation for QC.
The Future of Treatment
WHO cites two goals that must be met to combat multidrug-resistant N. gonorrhoeae: 1) broad-based control of drug resistance and 2) control of gonorrhea infections. Other organization such as NIAID are researching and developing new ways to treat cephalosporin-resistant infections to safeguard against the time when strains of N. gonorrhoeae become resistant to the drug.
Until more treatments or a vaccine are available, governments and health organizations must continue working together to fight the spread of gonorrhea through awareness and prevention efforts, regulation of antibiotics and the development of strong networks of laboratories performing gonococcal culture with effective quality control methods.
Microbioloigcs offers the CDC recommended strain of N. gonorrhoeae for quality control (ATCC® 49226™*) along with several other strains including four from CDC:
Resources